---
Published Book on Amazon
---
---
출판된 한글판 도서
---
---
Original Book Contents
---
3.9.3
Raspberry Pi
Dedicated
Camera
Raspberry Pi Foundation has released a dedicated camera for Raspberry Pi. The recently released camera uses the Sony IMX219 sensor, which can shoot up to 8 megapixels (8MP), supports still capture, and supports 1080p30, 720p60 and VGA90 video recording. This camera supports raw capturing and can also take pictures in JPEG, PNG, GIF, BMP, uncompressed YUV, and uncompressed RGB format. This camera can also record video in H.264, baseline, main and high-profile formats. Currently available cameras include a normal visible light camera and an infrared camera. This camera can be connected to the CSI port on the main board of Raspberry Pi by ribbon cable.
3.9.3.1
Visible-Light
Camera
The camera is equipped with an infrared filter that allows only visible light to pass through without passing through the infrared. This camera can take pictures with visible light only when it is bright with sunlight or separate lighting. Therefore, you can not take pictures properly in dark places.

Figure 3‑14 Visible-light camera
3.9.3.2
Infrared Camera
This camera does not use an infrared filter, so you can shoot with infrared rays in dark environment. This camera is called as NoIR (No Infrared) camera, meaning that there is no infrared filter. If you have an infrared filter, you can not use infrared rays because it does not pass infrared rays. Since there is no infrared filter in this camera, you can take pictures using infrared rays in dark places.
Pi NoIR, developed for a wide range of applications, just like areas requiring night vision (ex: security or observation of nocturnal animal behavior), superspecial images, astronomy and supernatural phenomenon research, can take pictures at 2592 x 1944 resolution.
Figure 3‑15 Infrared camera
3.9.3.3
Installing Raspberry Pi Dedicated Camera H/W
The Raspberry Pi camera module should be connected to the CSI port of Raspberry Pi. The CSI port is located between the HDMI port and the Ethernet port.
First, grab both tabs of the CSI port and pull up. Then, the slot of the port is spaced, and the camera module can be inserted at the interval. When you insert the Raspberry Pi camera module, the part that is printed in blue on the camera ribbon and have the blue colored part at the end of the connection point should faces the Ethernet port, and the part that have no printing and where the silver wire is connected at the end of the connection part should face the HDMI port side. In other words, the front of the camera should be facing the Ethernet port. After inserting camera ribbon into the slot of the CSI port, push tab of the CSI port toward HDMI port and push down to fix the camera ribbon.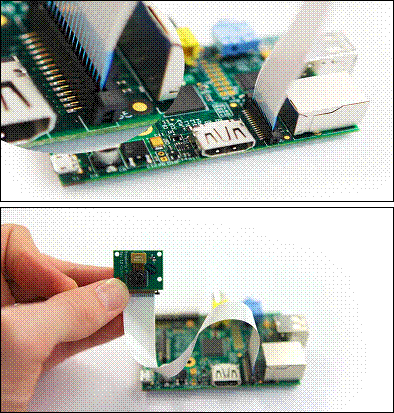 Figure 3‑16 Raspberry Pi dedicated camera installion